CCS Missions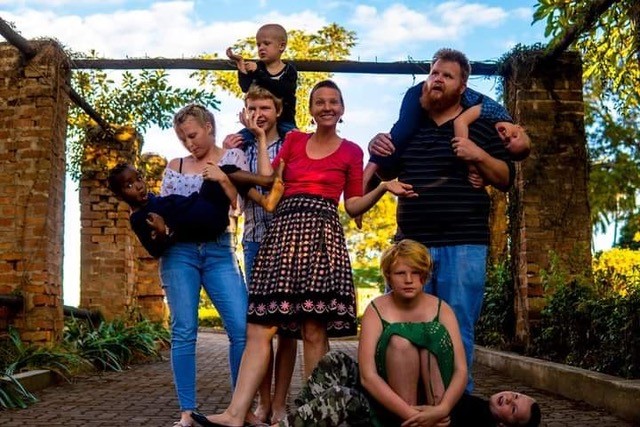 The Otto family has been living and serving in Malawi, Africa since December 2013.  God spoke to them in a dream telling them they were to leave their lives and family in America to serve and preach the gospel in Malawi, Africa.  They were obedient to the Lord's call and arrived in Blantyre with four young kids in tow and with another on the way!  Since they have arrived, God has blessed their family with two more children.   
The Otto kids all attend international schools in Blantyre, Malawi, love to keep their parents busy and are all very active with football, rugby, hockey, netball, swimming, and school plays and assemblies. As a family they love to spend time at their retreat center outside of town, climbing and hiking up and down the nearby mountains, relaxing at Lake Malawi, and playing endless card games, board games, football, basketball matches and frisbee throwing.
In partnership with Cornerstone Christian School in Bellevue, NE, Trevor and Kasey Otto direct and operate a Christian pre-school in Ndriande, Blantyre, Malawi. Ndirande is one of the poorest and most densely populated townships in Blantyre. Every day, Cornerstone Christian pre-school serves about 50 children, providing them with a meal, teaching them not only how to read and write but also the amazing story about how God created the world and then sent His one and only son to live and die for us so that we can live together with Him in eternity. In the future, we are very excited for God to increase our capacity to serve the children beyond preschool into their primary and secondary years.
Trevor and Kasey also serve as lead pastors of Mavuno Church Blantyre. Mavuno church Blantyre is a church plant that was started from Mavuno church based in Nairobi, Kenya. The congregation and people at Mavuno have become like family for the Otto's and each one of them hold a very special place in their hearts. They really love serving and discipling the people of Mavuno!
The Otto family has partnered with many local organizations to serve the people of Blantyre and beyond during their time in Malawi. Projects that they have served with include, college sponsorship programs, flood/disaster relief, special COVID-19 service projects, bible distribution, and market/street evangelism just to name a few.
The Otto family feel like Malawi is their home and have grown to really love and appreciate most things about the Malawian culture and it's people. They are so thankful for the obedience God gave them to follow the call of God on their lives and see what He had for them in Malawi. Thanks so much for taking the time to learn and pray about our ministry and work here in Malawi. If you have more questions or want to get in touch, please do!
Always in love,
Trevor, Kasey, Victoria, Corbin, Penelope, Elliott, Jeremiah, Prisca, and Gabriel Otto